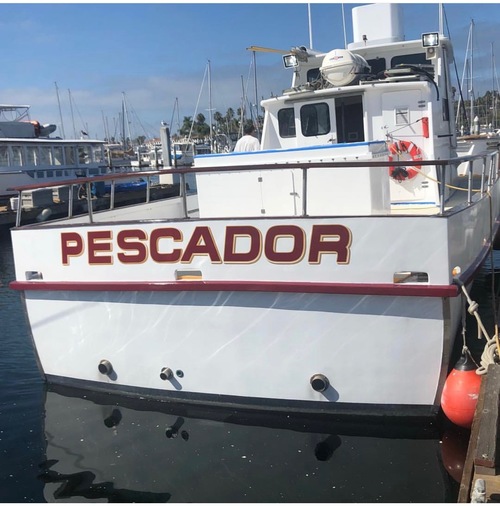 Pescador
Owner:
Mikey Jimenez, Jacob Moreno
Captains:
Mikey Jimenez, Jacob Moreno
Mailing Address:

Pescador Sportfishing
141 West 22nd Street
San Pedro, CA 90731
Full Galley Service
50 ft. x 17 ft.
Sleeps 14

The Pescador is a solid sport fishing vessel with an uncanny ability to locate fish. This fishing vessel is well known for its safety profile, comfort and smooth riding. The new mahogany rails compliment an extra wide and stable fishing platform with deck space to rival most vessels in her class. The vessel has recently undergone several renovations and upgrades to best accommodate our passengers. The 2015 upgrades include industry standard amenities and accommodations you come to expect from a quality sport fishing vessel.

The PESCADOR features brand new electronics such as: Simrad touch screen instruments, side scanning sonar/fish finder and state off the art radios and SSB's.

The vessel has been outfitted with a new 20k generator and is powered with 2 Cummins diesel engines.

New refrigerated fish holds will ensure your catch is well preserved.

The deck is brand new featuring a rubberized surface. The interior of the boat has been completely renovated with new carpet, flooring and paint.

The Pescador is one of the finest sportfishing boats available and we will ensure you have a quality experience regardless of skill level. Seasoned veterans or new comers alike come join us for the opportunity to catch the fish of a life time.

50% deposit required to confirm reservation for Charters. Remaining balance due prior to departure. Deposits not refunded unless cancellation is made 30 days prior to departure date. We reserve the right to overbook by two reservation, Price does not include Meals, Beer, Soda, Gratuity, Fishing tackle, or Mexican Fishing Permit.

To make your reservation please click on the green button next to the trip you would like to go on. Then follow the instructions to complete your reservation.
No trips found.
Charter Rates
Trip Types
Season
Anglers
Mon - Thu
Fri - Sun
Local Full Day Trip
Year Round
25
$1,800
N/A
Full Day Trip Islands
Year Round
25
$2,000
N/A
Overnight Catalina
Summer
10
$2,400
N/A
1.5 Day Offshore
Summer
10
$3,600
N/A
Outer Island Overnight
Year Round
10
$2,600
N/A
1.5 Day Offshore
Year Round
10
$3,600
N/A
Overnight Offshore
Year Round
10
$2,800
N/A
1.5 Day Island
Year Round
10
$3,200
N/A
Prices subject to change without notice. Call the landing for exact pricing.
Mikey Jimenez, Jacob Moreno
Recent Pescador Fish Counts
Date

Trip Type

Trip Details

Fish Count

Audio

11-19-2018

1.5 Day Trip

10 Anglers

3 Bluefin Tuna

11-15-2018

1.5 Day Trip

10 Anglers

1 Bluefin Tuna, 11 California Yellowtail

11-11-2018

1.5 Day Trip

10 Anglers

20 Bluefin Tuna, 14 California Yellowtail

11-08-2018

1.5 Day Trip

10 Anglers

20 Bluefin Tuna, 2 California Yellowtail

11-04-2018

1.5 Day Trip

9 Anglers

4 California Barracuda, 2 California Yellowtail, 90 Ocean Whitefish, 50 Rockfish, 15 Vermilion Rockfish, 1 White Seabass

10-30-2018

1.5 Day Trip

3 Anglers

12 California Yellowtail, 30 Ocean Whitefish, 25 Rockfish

10-29-2018

1.5 Day Trip

10 Anglers

1 California Halibut, 4 California Sheephead, 7 California Yellowtail, 12 Kelp Bass, 28 Ocean Whitefish, 21 Pacific Bonito

10-27-2018

Full Day Trip

10 Anglers

2 California Sheephead, 1 California Yellowtail, 5 Kelp Bass, 5 Ocean Whitefish, 3 Pacific Bonito, 2 Sargo

10-23-2018

1.5 Day Trip

10 Anglers

12 California Barracuda, 18 California Yellowtail, 22 Kelp Bass, 35 Ocean Whitefish, 37 Pacific Bonito, 20 Rockfish

10-21-2018

1.5 Day Trip

10 Anglers

10 California Yellowtail