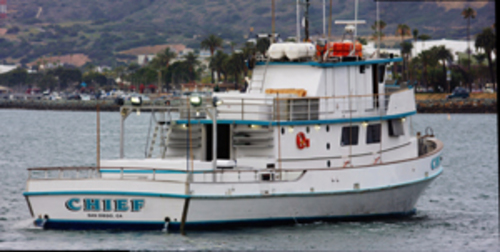 Chief
Owner:
Rick Russel
Captains:
Rick Russel
Mailing Address:

Chief Sportfishing
141 West 22nd Street
San Pedro, CA 90731
To make your reservation please click on the green button next to the trip you would like to go on. Then follow the instructions to complete your reservation.
No trips found.
Charter Rates
Trip Types
Season
Anglers
Mon - Thu
Fri - Sun
Overnight CAT, SBI, SCI, SNI
NOVEMBER- MAY
40
$5,000
$7,000
Overnight CAT, SBI, SCI, SNI
JUNE- OCTOBER
40
$6,500
$7,000
Overnight offshore including Tanner Bank
Year Round
40
$7,000
$8,000
1.5 Day (Sun - Thurs only) Outer Banks or Offshore
40
$11,000
$11,000
2 Day Offshore Including Tanner and Cortez
Year Round
40
$14,000
$15,000
2 Day Island
Year Round
40
$12,500
$13,500
Prices subject to change without notice. Call the landing for exact pricing.
Recent Chief Fish Counts
Date

Trip Type

Trip Details

Fish Count

Audio

06-17-2018

2 Day Trip

29 Anglers

12 California Scorpionfish, 21 California Sheephead, 2 California Yellowtail, 18 Kelp Bass, 112 Ocean Whitefish, 3 Pacific Bonito, 45 Rockfish, 1 California Halibut Released, 75 Kelp Bass Released, 4 White Seabass Released

06-10-2018

2 Day Trip

24 Anglers

1 California Barracuda, 35 California Sheephead, 11 California Yellowtail, 2 Finescale Triggerfish, 69 Kelp Bass, 118 Ocean Whitefish, 27 Pacific Bonito, 88 Rockfish, 1 White Seabass

06-08-2018

3 Day Trip

19 Anglers

54 California Sheephead, 5 California Yellowtail, 14 Kelp Bass, 5 Lingcod, 302 Ocean Whitefish, 14 Pacific Bonito, 412 Rockfish, 113 Vermilion Rockfish

06-03-2018

2 Day Trip

22 Anglers

3 California Barracuda, 10 California Sheephead, 51 California Yellowtail, 44 Kelp Bass, 127 Ocean Whitefish, 50 Rockfish, 4 Vermilion Rockfish, 1 Giant Seabass Released

05-23-2018

Overnight Trip

29 Anglers

5 California Barracuda, 3 California Sheephead, 12 California Yellowtail, 16 Kelp Bass, 50 Kelp Bass Released

05-20-2018

2 Day Trip

21 Anglers

42 Bocaccio, 2 California Barracuda, 1 California Halibut, 8 California Sheephead, 3 California Yellowtail, 1 Kelp Bass, 1 Lingcod, 53 Ocean Whitefish, 1 Pacific Bonito, 115 Rockfish, 3 Sargo, 20 Vermilion Rockfish, 2 White Seabass

05-13-2018

2.5 Day Trip

30 Anglers

57 Bocaccio, 1 California Halibut, 18 California Sheephead, 21 California Yellowtail, 22 Kelp Bass, 220 Ocean Whitefish, 2 Pacific Bonito, 188 Rockfish, 3 Sargo, 117 Vermilion Rockfish

04-08-2018

2 Day Trip

12 Anglers

49 Bocaccio, 2 California Barracuda, 10 California Halibut, 4 California Sheephead, 3 California Yellowtail, 7 Kelp Bass, 42 Ocean Whitefish, 8 Pacific Bonito, 139 Rockfish, 67 Vermilion Rockfish

04-01-2018

1.5 Day Trip

26 Anglers

1 Cabezon, 2 California Scorpionfish, 37 California Sheephead, 1 Kelp Bass, 8 Lingcod, 237 Ocean Whitefish, 139 Rockfish