Fish Report for 9-9-2018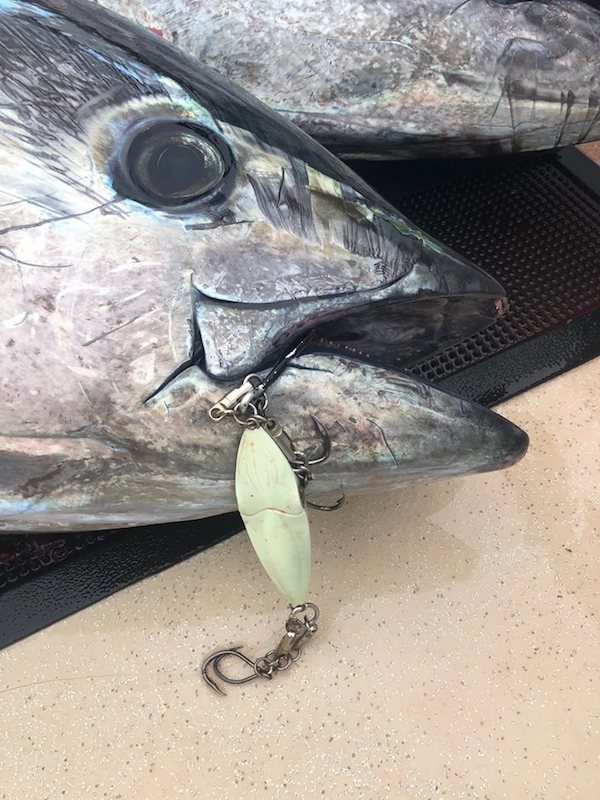 A Great Trip on the Outrider
9-9-2018
Tucker McCombs

A great trip on the Outrider, thanks to the captain and crew for that. It was a 2 day trip, we started fishing amongst the fleet at around 4:30 am Friday. Around gray light, we had a little bingo for 5 fish, up to about 50#. I got one on a sinker and bait combo.
Just a bit later, I hooked a good one on the Savage Gear (Okuma's lure line) Squish jig, 280 grams, Glow in the dark color.
About 40 minutes later, Tucker and the guys are dragging my 241 through the gate.
Homan was fighting one during the same time frame, we did the over under thing a few times, then Homan landed his 203.
Upon daylight, it's pretty much over, so we headed to the island for very slow yellowtail fishing, and fair calico bass fishing.
Towards the evening, we headed back to the tuna grounds, and we ran over fish for miles before we got to "the area"!
We actually even had some spots boil up a few times, but it shows little interest in our bait offerings.
Right before dinner, our charter master Robert Yoon hooks up, and lands a cow. We lost a few others, fish this size gain their freedom way more than we'd like em to.
Up again bright and early, doing my morning cardio work of winding a jig up quickly from 450 feet deep! WHEW!!!
A little flurry right at gray light again, I land one about 120, again on a torpedo sinker/bait rig, we get a few 50-60 pounders scattered amongst our anglers.
Around daylight, Robert hooks up, a good one, passes it to his friend Jeff. Jeff takes a few laps around the boat, and I get bit, and I put the wood to this thing.
Having the right gear is huge: UC Invictus 76, Okuma Makaira 30II SEa, 130# test Soft Steel Ultra mono.
15 minutes later Tucker and the guys gaff my 223 Bluefin tuna, for my second cow of the trip, and my full two day limit of tuna.
Weather was great, company was fantastic, thanks for a wonderful trip guys.